Da sempre originali e specializzati…
La nostra missione è garantire all'utilizzatore prodotti professionali, confacenti il loro uso, a costi economicamente vantaggiosi. Con questo intento, dal 1950, investiamo tempo e risorse per essere il partner di riferimento per gli operatori del nostro settore.
Pennelli Boldrini was founded in the middle of the last century with the intention of creating valid and specialized tools.
Our tools allow the applicator to improve the quality of his work and the aesthetic result of paint products.
The two key elements behind our company's success at the national and international markets, are and have always been –  the Innovation and Manufacturing capacity.
Today, with over 2,500 active customers and 3,000 items available in stock, we are present in 40 countries worldwide.
Our proposal is for all types of consumers –  hobbyists, in search of easy-to-use products, highly specialized artisans, decorators and industrial operators.
Everyone finds, in our tools, valid allies in carrying out the daily work.
The trust and loyalty of our customers are the best  prizes, that have always made us proud and that stimulated us to improve.
For this reason, in the last year, we have further invested in research, automation and structures, implementing production capacity and expanding the area of ​​our factories by  40%.
Pennelli Boldrini has the total area of ​​16,000 m2, of which 8,500 m2  are covered.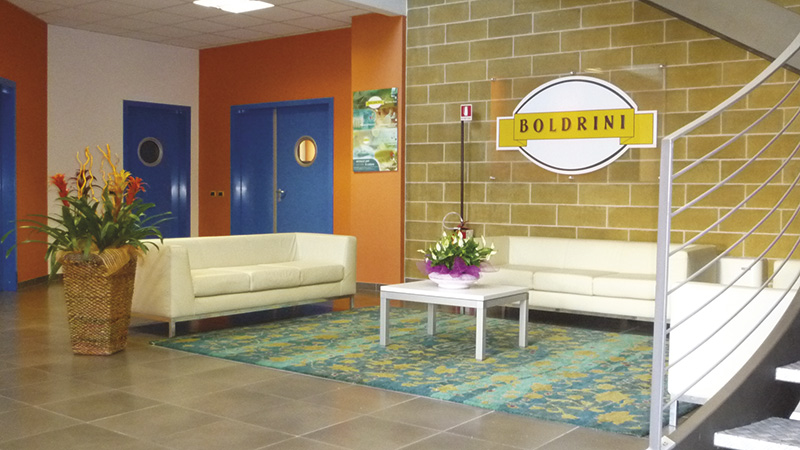 "People

'

sexperience

, pleasure  

atwork

,

thetechnologiesused

,

materialsandlastbutnotleast

, the

greatdoseofpassionforeverythingthatisoriginal

,

haveallowedus

,

overtheyears

,

tocreateproductsthat

,

anticipatingtrends

,

are

set out  

svaluabletoolsintheserviceofdecoration

.

"

PRODUZIONE, CONTROLLO QUALITÀ, ETICA
I nostri prodotti, assoggettati a rigorose prove di durata ed efficienza, per le proprie caratteristiche costruttive, superano ampiamente i limiti dei materiali standard, garantendo il miglior risultato su ogni superficie e migliorando la qualità di lavoro di ogni Applicatore, professionista come hobbista.
Experienced and qualified operators, carrying out their work with skill and passion, allow us to maintain the highest quality standards throughout the entire production process.
Quality control takes place through the various stages of the process which, for many steps, remains intentionally manual, guaranteeing a greater control, than that of any machine.
Since the '50s, our patents broadened the application horizons, making the first paint rollers available in Italy and arriving then to the realization of the decorative effects, which indelibly marked the evolution in the decoration sector.
Till now, the Effects No Limits tools are the most known and imitated in the world.
Today, more than ever, we find of the strategic importance the sustainable development of our Company. For several years  Our company produces independently the electricity it consumes, also guaranteeing its Employees the comfortable  working environment in every season.
We are also engaged in certifying  the sustainable provenance of the wooden items, used for the production of our instruments.